JieXian
biography
4

December 5th, 2012 + 5:12 AM
·

JieXian
epiphany at last
Updated version:
http://soundcloud.com/jiexian/liberation
added a crescendo and changed the guitar tone and other small mixing tweaks
____________________________________________________________________________________
after hitting so many many dead ends, I've finally found an arrangement I'm happy with.
a v3 of this:
v2
http://forum.bandamp.com/Audio_Review/9004.html
Somehow the limiter clipped in places that shouldnt. I set a ceiling of -0.3 but somehow it clipped in 1 spot where the intensity never reached that high >_>
3

November 22nd, 2012 + 2:11 PM
·

JieXian
What am I

What am I

Who am I

I wish I knew


hahaha having some fun jamming, somehow I thought about creating a (not so good impression of a ) turntable/fader haha
10

November 3rd, 2012 + 5:11 AM
·

JieXian
Halt! Just lie down and stare at the sky...
My first ever track with Ableton
The next step I'm thinking of is to add a more percussive climax a la
https://www.youtube.com/watch?v=WWMDfJEkQDs
(Denis you can add a guitar lead if you'd like. I can't make it work and I feel satisfied with this )
I have a problem with making it louder without clipping it...
8

October 27th, 2012 + 7:10 AM
·

JieXian
Inspired by Nujabes (uploaded newer version)
http://soundcloud.com/jiexian/listening-to-nujabes
I had this riff for a few weeks (the first one) and I had an idea after rediscovering Nujabes
I just started on it yesterday so I'm still ready to put in more stuff, make a better progression etc.
My first song with synths
Edit: just showed it to my sister and another guy and I should change some stuff: lower the kick drum volume, make a better transition to the beginning and less woodblock sounds and make it more in time
Edit2 : smoothened the transition and cleaned up the synchopated woodblock, going to put it on hold before making a proper v2 because I'm having exams
Still need to add in a variation on the piano on the 2nd time and make the claps sound better. And milk more from the B section, going to make it more dramatic
I have a newfound respect for all beatmakers and I'm going through futuresex/lovesounds from a totally different perspective :O, and other songs like In The Fog-Azure Ray or
23

October 17th, 2012 + 7:10 AM
·

JieXian
Edit: Now I consider it incomplete work without the lead
Submitted the final video.
Just noticed that I look quite bored because I've heard this song for 100 times...
____________________________________________________________________________________
Edit: Smoothened ending break transition.
hmm I'm still not satisfied with the build up to the ending riff.
http://soundcloud.com/jiexian/15-to-5-alt-end
____________________________________________________________________________________
Alias:
JieXian
Status: Offline
Threads:
13
Posts:
86
Songs:
13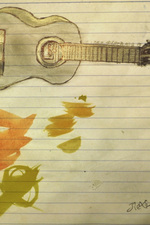 Joined: August 21st, 2011
Last login: November 14th, 2014